Hi loves! We're officially a full week into #BestSelfSeptember, can you believe it? This year has been insane to say the least, and I feel like my entire concept of time has just gone out the window at this point.
For this month, my goals were to cut alcohol, refined carbs and sugar from my diet, meditate for five minutes a day and post a video on Movement & Mindset every day. So far, I've been totally faithful to my goals and I'm feeling amazing. In August, I had already pretty much cut alcohol out completely, aside from a couple of gin and sodas one night, so Sober September has been fairly easy.
Don't get me wrong, having a few drinks is a fun way to relax, but I always feel so much lighter, clear-headed and energized whenever I cut out alcohol. Once you start to see the benefits of going alcohol free, it makes it a lot easier to stick to your goals. I'm definitely not saying I'll never touch another glass of wine in my life, but for now I'm going with the flow and doing what feels best to me, and it seems to be working!
When you're not drinking, it can still be fun to sip on a mocktail in a pretty glass to unwind at the end of the day. As an ex-Diet Coke addict (ask anyone I used to work with, I legit had 5 a day, EW!), I really appreciate low cal, low sugar drinks that are also healthy and natural tasting. Plus, as a type 1 diabetic, being able to drink something between meals that doesn't require insulin is the bomb.
If you're also partaking in Sober September, or are just looking for ideas for a fancy bevvy that won't make you feel groggy and gross the next day, here are a few of my current healthy favourites:
Daydream. If you follow me on Instagram, you'll know I'm always posting about these drinks because I'm totally obsessed. I was first drawn to their whimsical branding and packaging when I saw them on the shelf at McEwan's, and I soon learned that they don't just look pretty: these drinks are full of healthy adaptogens and herbs like hemp oil, schisandra, moringa and ginseng that help you unwind and relax. I actually start to feel more zen and even slightly buzzed as soon as I start sipping on a Daydream, which makes it all the more appealing for Sober September because you still get that same "ahhh" blissed-out feeling that you get from a glass of wine. Where I get it: McEwan's, Summerhill Market
Phat Nutrition Iced Tea. I first tried one of these healthy, low sugar teas when I bought one at the keto conference last August, and I loved it right away. With only 15 calories, 2 grams of carbs and 0 sugar, this iced tea is the perfect way to stay hydrated while enjoying something that tastes delicious. The best part is that it's infused with MCT oil and electrolytes from Himalayan salt, which can help you feel more energized and satiated throughout the day. Where I get it: Whole Foods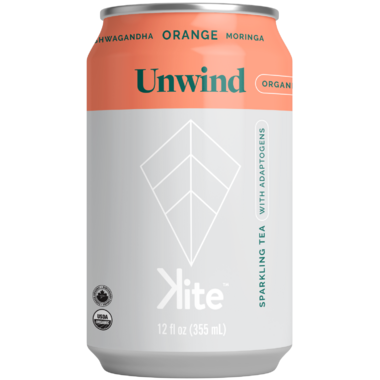 Kite Drinks. These adaptogen-infused sparkling waters come with three different flavour options depending on what mood you're in: rise, align and unwind. My personal favourite is "unwind," which is infused with orange and organic ashwaganda root to help you relax and chill out (it's not like a regular drink, it's a cool drink). I love that they have such subtle, natural flavouring because they're sweet without tasting like aspartame or anything artificial. Where I get it: Summerhill Market
Zevia. Zevia is a sugar and calorie-free pop sweetened with stevia. I feel like stevia is one of those things you either LOVE or hate, so this one depends on your preferences. This one is a really great option for when you're trying to drink less pop or diet pop but still crave that fizzy sweetness. My favourite flavours are grape and black cherry but I also recently branched off to try the cream soda and it was delicious. I also recently tried their new Zevia tea, which was a lovely afternoon pick-me-up to keep me energized until dinner. They have a ton of flavours from peach to passionfruit, and they're all free of calories and sugar. Where I get it: Bulk Barn
gldn hour. Also blessing us with beautiful branding, gldn hour is sparkling water infused with 5 grams collagen and aloe. I know – why didn't I think of this?! It's an amazing idea because it combines a refreshing, hydrating beverage with all the benefits of collagen like glowing skin and thicker hair. On their website, they describe the drink as "taking a sip of self care." Like, OBSESSED with everything about that. Again, there are only 25 calories and no sugar in this drink, and it really does taste super refreshing and slightly sweet without being overpowering. It comes in three delightful flavour combos: peach ginger, strawberry mint and grapefruit cucumber. Who needs prosecco? Where I get it: Summerhill Market
What are your favourite beverages right now? I would love to hear from you about your fave drinks and also how your #BestSelfSeptember is going!